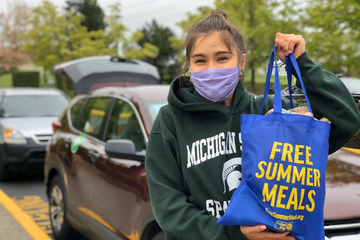 United Way of King County, in partnership with Washington's Office of Superintendent of Public Instruction, has launched the Free Summer Meals program for school-aged children to help families meet their nutritional needs.
ESPAÑOL
Sara Seelmeyer, food security program manager at United Way of King County, said hunger was an issue before COVID-19, but the pandemic exacerbated the food insecurity that continues today. The crisis has disproportionately increased food insecurity of Black, Indigenous and other people of color.
"Kids in low-income families benefit from and rely on free and reduced-price school meals program during the school year," said Seelmeyer. "Summer can be an uncertain time for low-income families who rely on these programs because that resource isn't available. The Free Summer Meals program is designed to help ensure kids have the fuel they need during the summer months. It brings nutrition into the communities where kids are living and playing in the summer."
Seelmeyer said families end up spending over $300 extra per month in groceries during the summer to feed their children.
The program is an underutilized resource across Washington. Historically, less than 15% of school-aged youth who access free and reduced-price meals during the school year also access summer meals statewide. Last summer, just 19% of all youth in the state who qualified for free and reduced-price meals accessed Free Summer Meals.
Over 10,000 children and adolescents receive free meals over the summer in King County in a typical year. In 2020, during one of the peaks of the pandemic, that number tripled to 30,000 students.
The Free Summer Meals sites are located at community centers, public parks, schools and other locations. In King County, they are operated by a team of dedicated AmeriCorps VISTAS, some of whom also provide home delivery services to families at affordable housing complexes. Delivery service will be provided at more than 25 King County housing locations.
To find the closest meal site, families can access United Way's Free Summer Meals page. They can also text the word SUMMER (or VERANO for Spanish), to 97779.
Funding for Free Summer Meals comes from OSPI, the U.S. Dept. of Agriculture, No Kid Hungry, and the Kellogg Company.
Additional information: Cesar Canizales; (206) 461 8414; ccanizales@uwkc.org.
Details
Comidas De Verano Gratuitas Para Niños En Edad Escolar Lanzadas En Todo El Estado
(SEATTLE) - United Way del Condado de King está lanzando el servicio de Comidas Gratuitas de Verano (Free Summer Meals) para niños y jóvenes en todo el Condado de King. Además, este año, United Way se está asociando estrechamente con la Oficina del Superintendente de Instrucción Pública de Washington (OSPI) para apoyar a los proveedores de Comidas Gratuitas de Verano en todo el estado para maximizar el impacto de los programas en sus comunidades.
Sara Seelmeyer, gerente del Programa de Seguridad Alimentaria de United Way del Condado de King, dijo que el hambre era un problema antes del COVID-19, pero que la pandemia exacerbó la inseguridad alimentaria que continúa hoy. La crisis ha aumentado de manera desproporcionada la inseguridad alimentaria de las personas de raza negra, indígenas y de color.
"Los niños de familias de bajos ingresos se benefician y dependen del programa de comidas escolares gratuitas y de precio reducido durante el año escolar", dijo Seelmeyer. "El verano puede ser una época incierta para las familias de bajos ingresos que dependen de estos programas porque ese recurso no está disponible. El programa Free Summer Meals está diseñado para ayudar a garantizar que los niños tengan el combustible que necesitan durante los meses de verano. Trae nutrición a las comunidades donde los niños viven y juegan en el verano ".
Seelmeyer añadió que las familias gastan más de $300 adicionales por mes en comestibles durante el verano para alimentar a sus hijos. Si usan este programa, las familias podrían ahorrar esta cantidad.
El programa es un recurso infrautilizado en todo Washington. Históricamente, menos del 15% de los jóvenes en edad escolar que acceden a comidas gratuitas o de precio reducido durante el año escolar también acceden a las comidas de verano en todo el estado. El verano pasado, solo el 19% de todos los jóvenes del estado que calificaron para recibir comidas gratuitas o de precio reducido tuvieron acceso a las Comidas Gratuitas de Verano.
Más de 10,000 niños y adolescentes reciben comidas gratis durante el verano en el Condado de King en un año típico. En 2020, durante uno de los picos de la pandemia, ese número se triplicó a 30.000 estudiantes.
Los sitios de Comidas Gratuitas de Verano están ubicados en centros comunitarios, parques públicos, escuelas y otros lugares. En el Condado de King, son operados por un equipo de AmeriCorps VISTAS dedicados, algunos de los cuales también brindan servicios de entrega a domicilio a familias en complejos de viviendas asequibles. El servicio de entrega se proporcionará en más de 25 ubicaciones de viviendas del Condado de King.
Para encontrar el sitio de comidas más cercano, las familias pueden acceder a la página Comidas Gratuitas de Verano de United Way. También pueden enviar un mensaje de texto con la palabra "VERANO" al 97779.
Los fondos para las comidas gratuitas de verano provienen de OSPI, el Departamento de Agricultura de EE. UU., No Kid Hungry y Kellogg Company.
Información adicional: César Canizales; (206) 461 8414; ccanizales@uwkc.org.