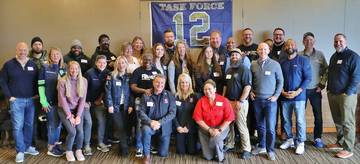 The military community is invited to meet with recruiters from 75 businesses and government employers at the Seahawks Military Hiring and Resource Fair — powered by Boeing.
The event is open to members and families in all branches of the military: active duty, National Guard, Reserves and Veterans, as well as Department of Defense employees.
Full-time and part-time jobs will be available. Participating employers are YesVets members – those recognized for hiring Veterans.
"Veterans make up around 15% of Boeing's workforce, and we know they make our company better," said Devon Rumsey, a Veteran with Boeing's Workforce Development Team. "We'll be at the Seahawks Military Hiring and Resource Fair to help connect Veterans and their families with meaningful work in our community."
More than two dozen Veterans-service organizations, including Task Force 12, will also be on hand to offer a variety of support services. Task Force 12 comprises the Seattle Seahawks and local grassroots nonprofits that support military service members, veterans and their families.
Job-search experts from WorkSource will be available to help job seekers improve their resumes and interviewing skills.
WHAT: Seahawks Military Hiring and Resource Fair

WHEN: 10 a.m. to 2 p.m. Tuesday, May 23, 2023

WHERE: Lumen Field, Seattle
"With amazing support from our friends at Boeing, the Seattle Seahawks are teaming up with the YesVets organization to hold our second annual Military Hiring and Resource Fair, dedicated to our military community," said Seahawks Community Engagement Manager Nino Gray Jr. "Dedicated Pacific Northwest employers and resource organizations will stand ready to help service members, Veterans and their families find jobs and support. Veteran-owned food trucks will entice attendees and military vehicles will be on display."
Registration and instructions for attendees:
Register online or at the door. When you register online, you can sign the required form, get a door entry code and receive event reminders. If you register at the door, you might need to wait in line to get your door entry code and sign the required form.
Get prepared. Practice your pitch to summarize your skills, experience and career goals. Have your resume available. You can print it on-site.
Register for the Hilton Honors Military Program if you live more than 50 miles from Lumen Field and you would like to stay in a nearby hotel. You can earn points that are good for free or reduced-price hotel stays. Go to your closest WorkSource center to register.
Park for free. The event will be in West Field Plaza at Lumen Field. Park in the north lot at 221 S. King St., Seattle. Enter Lumen Field at the northwest gate, adjacent to the north parking lot. Learn how to get to Lumen Field by bus or light rail.
Additional benefits
Eligible attendees can sign up to get a free laptop and cellphone. Stop by the Washington Department of Veterans Affairs booth to see if you qualify.
All pre-registered job seekers will be automatically entered in a drawing to win two free tickets to the Seahawks Salute to Service game with two pregame sideline passes.
Questions? For more information about the hiring and resource fair, contact the Employment Security Department at the following link.