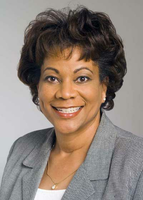 At a special meeting on Thursday, April 12, the Seattle School Board voted 6-0 to offer the position of Superintendent of Seattle Public Schools to Dr. Maria Goodloe-Johnson. During a news conference following the board meeting, Director Chow announced that Dr. Goodloe-Johnson has accepted the position, subject to final contract details being agreed.
"We are delighted to attract such a high-caliber superintendent to Seattle," said Board President Cheryl Chow. "Dr. Goodloe-Johnson's strengths and leadership skills became crystal clear as we saw her in action here in Seattle. Our appreciation for her skills as an educator, a leader, and as a person was only deepened during our visit to Charleston."
Dr. Goodloe-Johnson's deep passion for the well-being and academic achievement of all children is apparent in all her actions. "Maria is a teacher's teacher whose own educational experience will complement the extraordinary strengths of the teachers and staff in our district," said Chow. "Her style is to hit the ground running to support the partnership that matters most, the one between teachers, students, and families."
School Board Director Michael DeBell, who is chair of the board's finance committee, also commented on Dr. Goodloe-Johnson's strong leadership in the financial arena. "When
Dr. Goodloe-Johnson stepped into the superintendent role in Charleston County, she inherited a budget deficit," said DeBell. "Not only did Maria turn that situation around, but she also led her team to examine all expenditures, and to redirect the district's resources to align with academic priorities. This mirrors the work that we have started here in Seattle, and I am confident that Dr. Goodloe-Johnson will sustain and enhance those efforts."
A search for a top-notch Superintendent is a highly competitive process, and the School Board had to strike a delicate balance. On the one hand, the board needed to compete with the nation's leading districts, which vie for top candidates. On the other hand, our community is known for its commitment to extensive public process. The School Board needed to move quickly while ensuring a thorough process that included visits to Seattle by the finalists as well as visits by our board to the candidate's home districts. "At the end of the day, we had a highly qualified pool of applicants from which to choose and we knew we needed to act quickly to secure our top choice," said School Board President Cheryl Chow.