Getting Around the Puget Sound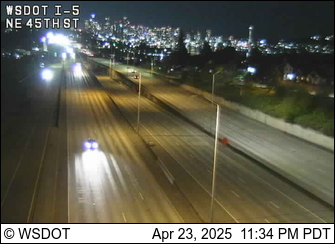 Current No. Seattle traffic conditions from
WSDOT
. Interstate 5 at 45th St NE.
Click picture for larger image.
Current Traffic Flow Map
. Click at left to view this excellent traffic resource, which is updated throughout the day from cameras, reports, automatic sensors and actual human beings. Additional direct links to North Seattle cameras help you check the traffic before setting out on a trip (if you like sitting in traffic, head for any part of the freeway network shown in red).
The Washington State Department of Transportation provides many web-based services to ease your travel through our region. We've selected some information of special interest to our North Seattle neighbors, but there's a lot more at the DOT site.
Images, source: WA State Dept. of Transportation
Public Transportation
| | | |
| --- | --- | --- |
| WA State Ferry System | Puget Sound Ferries. WA State and BC Ferries can give you some of the world's greatest scenery with your trip. (Click images for links to schedules, availability, current events and service problems.) | British Columbia Ferries |
Puget Sound Buses

These regional agencies want to take you for a ride.
(Links to schedules, availability, current events and service problems.)
King County/Metro serving King County and parts of Snohomish and Pierce Counties.
Community Transit serving North King and Snohomish County.
Pierce Transit in Tacoma and Pierce County.
Images by Washington State Department of Transportation, King Co. Metro, BC Ferries, or as otherwise indicated. Limited selection previewed under fair use doctrine.
Errata
These links are working as of September 4, 2017. If you find broken links or missing graphics, please let us know, and we will repair them yet again. (Insert audible sigh here.)

After maintaining this page since 1998 we have concluded that all the respective government agencies linked from this page are part of a cabalistic conspiracy to make work for government employees whose sole mission is to constantly restructure their file structure, making it impossible to keep referral pages accurate. Coupled with the various search engines' propensity to maintain obsolete links until the end of time, you are very likely to wait forever to be served by these transportation agencies. This website is not responsible for the inconvenience, illness, injury or death that may result from such practices.